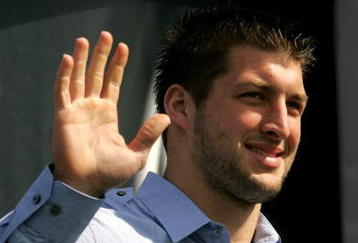 A guy named Nick Signorelli
wrote an article at Bleacher Report
suggesting that the Steelers pull the plug on the Bensperiment (which gives an anecdotal answer of "two" to the age-old "how many rapes does it take?" question in the NFL) and, through a series of moves, eventually end up with devil-worshipper Tim Tebow as their QB. With the 18th pick of the draft. Tebow. Fucking. Tebow. And since I'm lazy, I stole his image as well.
Now, Bleacher Report is just a collection of random fans who write articles about their teams. It's nothing more. So I don't expect much from them. But, as this is official rapeweek here at YLOTILAB, I'm going to continue on with the theme. And drafting Tebow is just asinine. Because the crux of his argument is:
And make no mistake about it, with Tim Tebow, we will NEVER be hearing of him out drinking and partying, and things along those lines. Tebow is a proud Christian, and has even abstained from sex until this point in his life, because he believes in waiting for his wife.
Holy mother of Tebow. Pam, I guess. Whatever. Point is, that would be the most egregious example of overcompensation in recorded human history. Ben got drunk and raped again. Tebow doesn't even touch beer! He never parties! God. He also sucks at QB, and the main goal of a football team when searching for a QB is to get a guy who is good at QB-ing. So, let's compare Tebow with other options. First, let's list all NFL QBs who haven't been accused of multiple rapings:
- ALL OF THEM
Now, let's look at incoming college QBs who haven't raped people:
- FUCKING ALL OF THEM
So why Tebow? Is rape becoming a fad amongst QBs these days? Ben isn't an outlier? The Steelers have to go after the least rapey players they can find now?
Another suggestion involves this:
The next thing they need to do is to make a call to the Seattle Seahawks. With the aging Matt Hasselbeck, Pete Carroll could trade his first two first round picks for Big Ben and immediately upgrade his team.
If the Seahawks are not interested then make a call to the Washington Redskins, who will become favorites to win the NFC East with Big Ben under center.
Uh...why don't they just keep him then? If he's such a toxic asset that he must be moved, who in the fuck is going to give up two first rounders for him? Has Ben raped-out his welcome in Pittsburgh? Maybe he has. But are the fans of the team that trades for him blind? Are they just going to dismiss it? Sure worked well with Michael Vick.
The Steelers will then announce that Charlie Batch has been resigned to a three year contract extension, and that the Steelers are interested in drafting Colt McCoy in the second round with the other pick that they got from the Skins or Hawks.
Charlie Batch is done. Look, if Ben is in fact not an option, my Plan A is to roll with Dixon. He was an absolute steal in the 4th round in 2008 and he impressed me with his play last year in his first ever start in Baltimore. That's a hell of a draw. And Dixon almost pulled that game out. I love what he can do back there.We don't need the shell of Charlie Batch or the moxie of Colt McCoy. Or the Jesus-powers of Tebow. We need a fucking quarterback.
Tebow would be able to come in, as did Roethlisberger did in his rookie season, and be along for the ride. Then he can grow into the player, or one comparable to the one, that Roethlisberger is.
Ben Roethlisberger is, without too much hyperbole, probably one of the better QBs of all-motherfucking-time. The stats and the results don't lie. He's put up great numbers with a piss-poor OL and he's still only 27. Or maybe 28. Still. Just approaching what should be his prime. Thinking Tebow, who many are projecting to become an epic flameout, will even be HALF the NFL QB that Ben Roethlisberger is is just...I think it's one of the dumbest football plans I've ever heard.
I don't care about how ethical Tebow is. This suggestion is crystal methical. If Ben gets convicted, he's going to jail and no one's trading for him. If not, he's going to play and you might as well keep him regardless of how much he rapes. He's that good at that important of a position.
Tebow at 18. God. If you want Tebow so badly, fatten Dixon up so that he slows down and then drug him and completely skullfuck his passing mechanics. Then you can trade that 18th pick for David Carr.