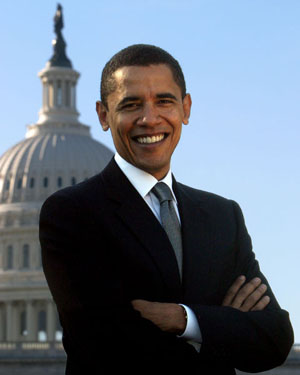 It has been brought to my attention that the
Pittsburgh Steelers plan on visiting me
at the White House as an emphatic cap to a wonderful season that saw them win the Super Bowl on the backs of a solid young offense and a historically great defense. The team overcame the concerns of all of the so-called "experts" to win in spite of what was referred to as "a line so pitiful that Michael Irvin wouldn't even snort it" and a running game that couldn't gain an inch if it took Viagra. The team was very exciting to watch; trust me, although I love my Bears, if I had to name a second-favorite team it would certainly be the Pittsburgh Steelers. I loved watching them play....the way they attack on defense, the efficient passing of Ben Roethlisberger, the workman-like qualities of stalwart receiver Hines Ward, et cetera. And so you'd think that I would be honored to invite them to the White House to recognize and toast their accomplishments this past season.
But fuck that.
Where the fuck were the Steelers at when I was just a lowly US senator from Illinois? Or when I was a fucking law clerk after graduating from school? Huh? What, the Steelers weren't around in the 1980's? You pricks certainly could have came to visit me then...I had plenty of time in my schedule. Where were you dickbags? I forget a few things from that time period, you know, mainly due to all the coke and whatnot, but I'm almost 100% sure I would have remembered a visit from the World Champion Pittsburgh Steelers. Or even the non-champion Pittsburgh Steelers. You don't think Mark Malone could have worked in a visit between interceptions? Or, who knows, maybe Barry Foster could have come and seen me after a backbreaking fumble or something? Tim McKyer probably could have blown right past my gate security like it was, oh, I don't know, Tim McKyer. But did any of these vagbaskets come to visit me then? Fuck and No.
So fuck that, man. If John McCain would have won the election, do you think that Steelers would be coming to visit him? As far as I'm concerned, yes...yes they would. I'd just be sitting here writing more memoirs about postcards from my fucking cousin or some shit like that. So fuck you, Pittsburgh Steelers. If you really wanted to come and hang out with me, you would have done it before I became the president of the motherfucking United States.